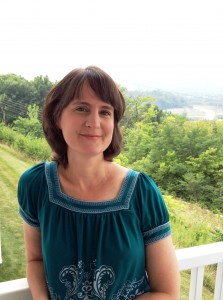 Originally from Pennsylvania, Donelle Dreese is a Professor in the English Department at Northern Kentucky University where she teaches Multicultural and Environmental Literature, American Women Poets, and writing courses.  Her creative work has appeared in numerous magazines and journals including Quiddity International, Appalachian Heritage, Citron Review, Roanoke Review, Fjords Review, Blue Lyra Review, Hospital Drive, Gulf Stream Magazine, Organization & Environment, ISLE: Interdisciplinary Study in Literature and the Environment, Journal of Microliterature, Conclave: A Journal of Character, Potomac Review, and Adanna.  She holds a Ph.D. in Multicultural Literature, Ecocriticism, and Environmental Writing from Indiana University of Pennsylvania.
Donelle is the author of the ecofiction novels Cave Walker (Moon Willow Press, 2017) and Deep River Burning (WiDo Publishing, 2014), and a YA vignette novella, Dragonflies in the Cowburbs (Anaphora Literary Press, 2013).
Donelle's full-length collection of poetry, Sophrosyne, was published by Aldrich Press in 2015. In 2008, her chapbook of poetry titled A Wild Turn was published by Finishing Line Press, and in 2010, her second chapbook of poetry titled Looking for a Sunday Afternoon was published by Pudding House Publications.
Donelle is also the author of America's Natural Places: East and Northeast published by ABC-CLIO Press in 2010.  The purpose of this book is to provide a detailed description and discussion of natural environments in the Eastern and Northeastern United States.  The book supports current local, national, and global movements toward sustainability and enhances efforts currently underway that promote environmental awareness and regional stewardship.
In 2002, her scholarly monograph Ecocriticism: Creating Self and Place in Environmental and American Indian Literatures was published by Peter Lang.  This work briefly surveys 20th-century poets and prose writers of diverse ethnicity who have attempted to recover a sense of home, identity, community, and place in response to various forms of displacement caused by such forces as colonization, racial and sexual oppression, and environmental alienation.
Other scholarly articles authored or co-authored by Donelle have appeared in:
–Studies in American Indian Literatures
–Transformations: The Journal of Inclusive Scholarship and Pedagogy
–Marginal Words, Marginal Work?: Tutoring the Academy in the Work of Writing Centers
— Interdisciplinary Literary Studies
She has served as the Professional Liaison Coordinator for the Association for the Study of Literature and Environment.  Her poetry has appeared in For a Better World: Poems and Drawings on Peace and Justice by Greater Cincinnati Artists each year since 2005.  Her teaching, research, and writing projects are frequently informed by environmental and social justice issues, a sense of place, spirituality, and gender.
In 2010, Donelle received the Sigma Tau Delta Professor of the Year Award at Northern Kentucky University, and in 2011, she received the "Engaging Mind and Heart" faculty recognition for her dedicated work with graduate and undergraduate students, and for her teaching and writing that promotes environmental stewardship at NKU.  In 2007, a book chapter titled "Institutionalizing Ethical Collaboration Across Difference in Writing Centers " co-authored with Christopher Wilkey appeared in the book Marginal Words, Marginal Work?  Tutoring the Academy in the Work of Writing Centers, which won the International Writing Center Book of the Year Award.
In 2003, Donelle completed 240 hours of teacher training at the North Carolina School of Yoga and received her certification as a yoga instructor.  She spends her free time hiking and practicing the violin and piano.