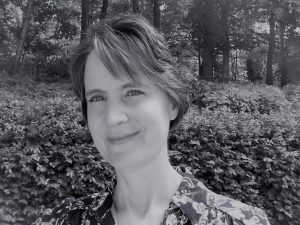 Donelle Dreese is a poet, essayist, novelist, and Professor of English at Northern Kentucky University. She holds a Ph.D. in Environmental and Multicultural Literature from Indiana University of Pennsylvania. Donelle has received numerous teaching awards including the Excellence in Online and Technology-Enhanced Teaching Award and the Sigma Tau Delta Professor of the Year Award from Northern Kentucky University. She serves as Vice President on the Board of Trustees for Heritage Acres Memorial Sanctuary and is the editor of the Heritage Acres Newsletter. She is an avid hiker, nature photographer, gardener, yogi, and student of contemplative practices.
Donelle's books include Cave Walker (Moon Willow Press), Sophrosyne (Aldrich Press), Deep River Burning (WiDo Press), Dragonflies in the Cowburbs (Anaphora Literary Press), A Wild Turn (Finishing Line), Looking for a Sunday Afternoon (Pudding House), America's Natural Places: East and Northeast (ABC-CLIO), and Ecocriticism: Creating Self and Place in American Indian and Environmental Literatures (Peter Lang). Her work has appeared in a wide variety of publications including Roanoke Review, Blue Lyra Review, Adanna, Potomac Review, and Quiddity International.
Recent News and Publications:
Forthcoming: "Now is the Time for Contemplative Teaching" in Women in Higher Education
"Teaching and Building Climate Confidence" in Women in Higher Education
"Teaching Inclusion in the #MeToo Era" in Women In Higher Education
"The Autoethnographic Essay as Contemplative Practice and Pedagogy" at MELUSblog: Pedagogy and Multiethnic Literature
Donelle's latest poetry manuscript, Organelle, was named a finalist for the 2018 Louise Bogan Award by Trio House Press. Organelle also received Honorable Mention in the 2018 and 2019 Hopper Poetry Prize competitions. Here's one review:
Organelle has a shell-like nature: intricate, inviting, dense, clever, fractal, winding, neat, and tinged with the sinister. As with any sound poetics, Dreese digs into ethics and power with a steady hand over three parts: The Carson Poems, Organelle, and The Swallow Experiment. Her title poem, "Organelle," insists "This is about getting to know each other / again as a planetary imperative / a cell membrane circling a globe / worlds within worlds […]" In fact, it is a kind of "planetary imperative" that seems to drive the collection itself, in which Dreese moves through invocations, suggestions, pleas, and imperatives of every sort: "Go where words and clover / converge"; "Let's call them 'apples'"; "I need you to know how much I cradle / this flower" . . . their tones always weighing the nature of desire in its many shapes. A revisionist and speculative muscle courses and flexes throughout, celebrating women of science in all of their complex vitality, including and especially their vitality after death, and sometimes in their obscurity. These poems carry you along: they are wet and always moving. Organelle is a refreshing and sensual inquiry along the queer ecotones of words and things, abstract and material, aquatic and terrestrial, blues and browns, woman and ghost, this body and the next.
—Anna Mullen, The Hopper Poetry Editor
Contact: