Publisher: Kelsay Books, 2021
Poetry
Publisher: Finishing Line Press, 2017
Environmental Poetry; Ekphrastic Poetry
Publisher: Aldrich Press, 2015
In this profound collection Donelle Dreese intertwines the fruits of the earth with our daily existence as well as with the celestial spheres. Throughout these tender poems we are reminded to "care for the seed / as we might cradle a beating heart." This book is deeply spiritual, revealing the goodness of those who shine a light on us by their personal experience. It illuminates the humility of soul, and "the silver cord that connects / the physical body pain-embossed / to the golden bowl of the cosmos." This superbly crafted book will fill your heart.  —Marguerite Bouvard, The Unpredictability of Light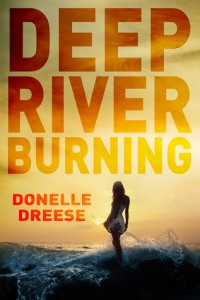 Deep River Burning
Publisher: WiDo Publishing, 2014
Environmental Fiction
Denver Oakley's home town of Adena, Pennsylvania has become a world on fire. The abandoned coal mines underneath the town are a blazing inferno, the escaping smoke and gases killing vegetation and making residents sick. Denver, who recently lost her parents, feels adrift and alone. She sells the family home, drops out of college and takes refuge in Isabel Beach, North Carolina. There, white, scalloped beaches and a coastal wildlife sanctuary provide Denver with a sense of belonging and a new focus. And then she receives a letter from Josh, a good friend who disappeared from Adena before Denver left. In the letter, Josh asks her to return to their hometown and meet with him at their old meeting place on the river. She thought she'd never go back, and is still not convinced she can re-open those old wounds.
Young Adult–Pushcart Prize Nominee
Publisher: Anaphora Literary Press, 2013
ISBN: 978-1-937536-51-0
"Donelle Dreese's young adult novella, Dragonflies in the Cowburbs, unfolds in a series of poignant, witty, and lyrical vignettes formally reminiscent of The House on Mango Street.  As readers, we spend a year in the life of Francesca Butler, an 'unpopular sixteen-year-old who already feels as if her life is controlled by the hounds of "no" and "not now."'  This coming-of-age narrative captures so much  of our contemporary zeitgeist, from Facebook status updates to a bad case of 'textitis.'  Yet the story itself is timeless—a young woman struggling to make her way in a world fraught with contradiction and loss.  Francesca muses, 'What about a singer who permanently  loses her voice?  She must find other ways to sing.'  And this, I marvel, is what Dreese herself has done.  She has found a way to sing with grace and conviction in a story (and a world) that raises more questions than it answers."
—Julie Marie Wade, author of Wishbone: A Memoir in Fractures and Small Fires
America's Natural Places: East and Northeast
(from PREFACE)
A corridor is a passageway, a doorway, a guided path that facilitates movement and migration. The subject of corridors is revisited frequently in this book as it covers natural areas beginning as far west as Kentucky, as far south as Virginia, and voyages up the northeast corridor to Maine. There are much smaller corridors that are described here as well, because many of the places featured in this book have their own respective passageways, some more wild than others as popular places for tourism are profiled as well as preserves that are closed to public access. But America's Natural Places: East and Northeast is also about larger corridors – those that connect the past to the present, and the present to the future. These natural areas are storytellers chronicling the narratives of cultural and ecological histories that not only have much to tell about the region's past, but also are microcosmic indicators of the earth's current global health. They are corridors into our future as they tell us where our planet is going–toward the loss of countless native species, archeological treasures, and ecosystems that are vital for a sustainable planet. These natural areas are themselves guided paths, passageways into a healthier future as they teach us what is happening within their fragile landscapes and seascapes, and what can be done to preserve their historical, cultural and ecological significance before their lessons are lost to us forever.